Wild Bus
The wildest night of your life
The WILDEST Party Buses in Vegas
FREE Guestlist services to all the hottest nightclubs and pool parties!
For Prices and Reservation
Details

First choose your Private Luxury Party Bus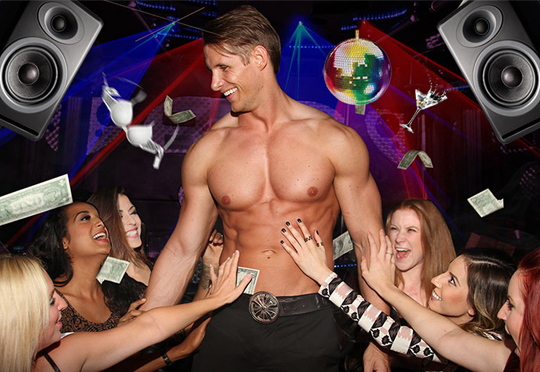 Next hire a Buff Butler!
Looking for a some class, with nice ass? A buff butler of your choosing will cater to your guests every need!
Imagine being welcomed on to the bus by a handsome hunk. After you have taken a seat, he surprises you by ripping off his shirt, putting on a bow-tie and begins serving you drinks! These sexy gentlemen are trained to be the ultimate host! They mix & serve drinks, conduct party games, and ensure everyone on the party bus is treated like royalty!
Most importantly, you get to choose who your buff butler will be! After you have paid the minimum deposit on your bus, we will provide you a list of butlers to choose from!
Hire a Male Stripper!
Choose one of our Striptainers to make sure your group has the time of their life!
They are not only great at taking their clothes off, but they also know how to dance, seduce and EXCITE your party!
This is better than a strip club because our dancers are 100% devoted to you! You'll get 10x the attention and have 20x more fun than you would at the club.
And just like our Buff Butlers, you get to choose who your Striptainer will be! After you have paid the minimum deposit on your bus, we will provide you a list of Striptainers to choose from!
Have a drink!
The following is the standard alcohol package available on all of our party buses:
1 Bottle of Jack Daniels Whiskey or Captain Morgan Rum 1.75 liters (or equivalent value alcohol)
1 Bottle of Premium Vodka 1.75 liters (or equivalent value alcohol)
3 Mixers (coke, cranberry, 7-up, orange juice, etc)
Bottled Water
You can swap out alcohol or mixers with another item of equal value. We can also add additional bottles of liquor or mixers (cost may vary). All passengers must be 21 years of age or older.
Complimentary Guest List Service
We offer all of our Party Bus customers free guest-list services! Take advantage of free entry into day clubs, night clubs & male strip clubs such as:
XS
Hakkasan
Light
Hustlers
Sapphire
1 Oak
Omnia
Marquee
Rehab and many more!
For Prices and Reservation
A Night To Remember!
The trip begins with one of our luxury party buses picking up your group in front of your hotel. You'll be welcomed by your handsome host (Buff Butler) who will seat you in the bus. Then he will rip off his shirt and become your very own buff butler!
Your party will cruise the strip and enjoy being served by your sexy waiter. As you're riding down the Las Vegas Strip, the bus will pick up a Striptainer (male stripper) who will surprise the bachelorette with a Magic Mike style striptease and lap dance! And then he's free to dance for the rest your group and take pictures. We will stop by the world famous Las Vegas sign and take souvenir pictures. After the sign the bus will drop off Magic Mike and your buff butler will keep the energy going with fun party games, jokes, & heated conversation.
Afterwards you will be dropped off at the hotel of your choice and escorted inside. You and your group will have guestlist entry into your choice of nightclub! The next day, enjoy complimentary guestlist access to one of Vegas' best pool parties. Make your reservation today before buses are sold out.
(The preceding was an example of night out on one of our party buses. You can customize your itinerary however you like)
Your Title Goes Here
Your content goes here. Edit or remove this text inline or in the module Content settings. You can also style every aspect of this content in the module Design settings and even apply custom CSS to this text in the module Advanced settings.
LICENSED & INSURED
We are covered in Clark County and the City of Las Vegas.
SAFETY FIRST
All of our talent is hand picked and background checked.
Your Title Goes Here
Your content goes here. Edit or remove this text inline or in the module Content settings. You can also style every aspect of this content in the module Design settings and even apply custom CSS to this text in the module Advanced settings.
5 STAR RATING ON YELP
We're the highest rated agency in Las Vegas. (see our Yelp page)
CUSTOMER TESTIMONIALS
We love it when our customers are happy! (see our  reviews)
BEST PRICES
We can give you the best prices because we deal in wholesale rates.
INTERNATIONAL SUPPORT
We can communicate with you from any country.
WE ♥ OUR CUSTOMERS
We take pride in offering the best service for the best price.
3/15/2016
I was so excited to come to Vegas last weekend for my bachelorette weekend. My bridesmaids blindfolded me and surprised me with Jessie John and J. T!! All I have to say is WOW! They were both incredibly hot from head to toe! Jessie John was our butler and served drinks and took pics with us shirtless in his cute suspenders. He had the greatest personality and joked around with us throughout the night. The entire bridal party was in love haha. Then J.T. came knocking at our door with a "noise complaint" lol. I'm so naive I really thought he was a random guy at the hotel complaining about the noise. He came in and gave us the hottest dances we could have ever wished for! He did an amazing job at embarrassing me with all the action lol and even gave lap dances to the entire bridal party and even my Aunt lol. They were all loving it!! I'm so glad my bridesmaids decided to surprise me with Wild Boyz Entertainment and we were lucky enough to get the best guys they have. Jessie John and J.T They were the highlight of my bachelorette weekend 🙂
6/4/2016
Omg ladies!!! This bus was sooo much fun' The strippers on the bus (jesse James and JT) were sexy as hell and and a dirty good time! It was like We had all been good friends for years if you know what I mean 😉 ! I would highly recommend this bus to anyone looking for some fun, not to mention the owner hooked us up and was very easy on the eyes. Even the bus driver was sexy with a mexican accent hi papi! :*
1/16/2016
Can't say enough! 5 stars for sure! Just a huge thank you to Steve for the amazing time we had for my best friends 40th birthday party! I can honestly say that every single one of us continue to laugh and talk about how much run it was having him dance for us. He was punctual. super super nice. professional and in no way made anyone feel left out or uncomfortable. It never became awkward at all and we all had such a good time, Thank you also for honoring your active duty by offering the military (or in this case wife) discount we will definitely be calling you back in a couple of years when I turn 40!
10/5/2015
We had Justin for my friend's 30th birthday. He showed up on time, was a fantastic entertainer. and is incredibly sexy I mean. the guy has that boy-next-door face with abs and ass that won't quit! He was respectful and made sure everyone. including the two gay guys in the group. had a great time. I highly recommend both Wild Boyz and Justin for your next Vegas entertainment needs.
3/14/2016
I had to plan my sister's bachelorette and I was really unsure about getting Strippers or not. We are so glad that we decided to get Strippers and that we ordered from Wild Boyz! We had Jesse John come in as our buff butler and he was absolutely AMAZING! He came in and made us drinks and put everybody at ease. He was able to get everyone to have a good time (from the crazy bachelorette to the conservative cousin). He even ended up giving us a mini strip show because our aunt (who's a little wild!) kept putting dollar bills in his suspenders and telling him to take it off! LOL. He was such a great sport about it all and then he even worked really hard to get us into a night club that night. Our grandma showed up at one point just to say hi and joke around and he was so sweet with her and made her laugh a lot. Can't say enough good things about Jesse John. Definitely a great choice for buff butler and next time we would definitely get him as stripper! The stripper that we ordered was J.T. and he was also really good! I assumed the whole thing would be more for my sister (the bachelorette) but he did a show for her and then said where's the maid of honor, bridesmaid, etc and embarassed/got wild with all of us! 😉 He was a great dancer and had a nice body. It was super fun and the whole bridal party LOVED it
6/30/2015
After months of planning a bachelorette party in Vegas, and booking with another agency we arrived in Sin City ready to party. Upon arrival at the airport, bags in hand we ventured to the designated pick up location only to find our bus had not arrived. I called the company and they gave me the runaround tor the next 2 hours. At which time they admitted that our confirmed paid reservation had somehow been over looked. Bear in mind our entire trip hinged on that reservation including hotel. We called numerous taxi services to find we had far too many people. At the suggestion of another passenger, whose transportation did arrive, we made a call to Wild Boyz Entertainment After explaining the situation to the booking agent, they were able to quickly book a party bus for us. As well as entertainment and hotel for the entire stay. They did not disappoint! The dancers were phenomenal! Kept everyone entertained and for not knowing what our personalities were or knowing exactly what we wanted, they nailed it! Thank you for an amazing experience! Will definitely use them again. They are HIGHLY RECOMMENDED!
12/22/2016
If you want to turn your bachelorette party (or bachelor party!) into an epic event, you should book Wild Boyz, We had JT (stripper) and Justin (butler) for our night. and these boys love what they do, and are deliciously sexy! They gave great attention to all seven or the girls in our party. brought out the shy ones and tamed the excited ones!
Skip going to thunder down under or the other male strip clubs. spend your money here….so much better than what you get there, and if you all Chip in, it's the same price
Can't say enough great things about Wild Boyz! This isn't a fake review…we are real girls that had a fantastic time. You should too!
6/5/2016
I didn't know what to expect booking this party as a gift for a friend. Let me just say that you will NOT be disappointed. Everything was handled with professionalism and quickly handled online. Once the logistics were all figured out. it was just waiting for the actual event. Let me just say that JUSTIN was amazing! We had a mixed group, and he did such an amazing job. Funny. charming, and sexy, he had the ladies screaming with delight. Worth every penny and then some. It you are planning any kind of celebration in Vegas. contact Wild Boyz (and ask for Justin). The party was enjoyed so much by everyone. they're already asking about a follow-ups.
3/13/2016
Steve was AMAZING! I wasn't sure about getting a stripper tor my sisters bachelorette but I'm so glad I did. The girls had such a great time and we successfully made the bachelorette uncomfortable – SO WORTH IT! They are easy to make a reservation with and Steve kept in contact with me right up until the bachelorette party. Would definitely do this again tor the next party.
8/16/2016
I'm beet red thinking about the evening we had, but I had to write a review cause Jesse and Justin did such an amazing job with my bachelorette party' This was a surprise that was planned by my bridal part, so I had no idea what we were doing or what to expect. I figured we must nave been going to a strip club, but my maid of honor kept mentioning that I've planned so many bachelorette parties in my time and have done the typical bachelorette strip club experiences so she wanted to do something different for me. Well, I felt there wasn't much out there that she could otter that I haven't seen yet, so I figured, we were just going to head to a strip club with maybe a small additional services of some sort.
When I entered the party bus, Jesse was there and welcomed us and mentioned we would be heading to the Las Vegas sign for pictures and that he would be fixing us drinks. I paid no mind to him since I thought he was just going to make us drinks and walk us to the sign. Suddenly. he took his shirt off saying it was "'hot" in the bus and I started getting a little nervous, because I wasn't sure what was going to go down lol.
I'm surprised there aren't many reviews on Jesse. The man is GORGEOUS first off. great body and an adorable personality. I think it was pretty obvious we were a conservative group of girls and he did a wonderful job making the atmosphere fun and relaxing. He made all of us laugh and giggle tons w/ his bubbly personality, really making me feel more at ease. He took a lot of photos w/ the girls who weren't into getting dances and they had a great time and he made sure the rest of us did too 🙂
We get off to take photos at the sign and that's when I met Justin. I can definitely see why he has rave reviews lol. Also very good looking guy and amazing body. They were both really fun to take photos with and we got some great memories and pictures from there. Then I noticed Justin was getting into the bus w/ Jesse and well.. I don't think I can go back to just having one stripper at a time LOL.
They each brought different types or entertainment to this experience and were both personable, making it an overall a much better time than just going to a strip club.
I really enjoyed their humor and ability to just be silly. making it light hearted tor us all. Pandora ended up playing an Adele song which we thought was odd. W/o hesitation. Jesse grabs my hand and starts serenading me and Justin was dancing around me, cracking us all up. Never going to see that song the same way again
Anyways. so this was truly a unique experience tor me and SO much better than just going to a strip club. I was afraid private entertainment would be too raunchy but this was actually a lot more fun and personable.
Jesse and I had some conversations here and there which I really enjoyed and it made the experience a lot more relaxing and light hearted. They even walked us into the club at the end of the night. They stayed fun and professional until the very end. I would definitely recommend them and this company to anyone looking to nave a great time, even if its not your thing. The men here are seriously so much better looking than the ones I've seen at the strip clubs I've been to. They are true professionals and you definitely are paying tor quality
For Prices and Reservation
Your Title Goes Here
Your content goes here. Edit or remove this text inline or in the module Content settings. You can also style every aspect of this content in the module Design settings and even apply custom CSS to this text in the module Advanced settings.
How do I book a party bus?
Fill out our Party Bus Request form.
Wait for us to contact you to answer any questions and collect additional information.
Once details are confirmed pay 40% deposit over the phone.
We will then send you a list of entertainers available for your event. Let us know who you choose.
Guest-list services will be arranged & alcohol package determined.
Pay remainder 60% 48 hours prior to the event.
Enjoy the ride or your life!
How long are the Party Bus Rides?
Our standard packages run the following lengths of time:
Cupid's Bus – 1 hour*
Valentines Bus – 2 hours*
Aphrodite's Fleet – 2 hours*
*Must be dropped off at the pickup location.
However, we can give you a quote for any custom package you can think of, simply fill out our Party Bus Request Form and describe it in the "Special Request" section.
Where do the buses go?
In general, the Party Buses will pick you up at your hotel and ride along the Strip to the Las Vegas sign and back. Sometimes if there isn't much traffic you will have time to visit the Bellagio fountains as well.
Is alcohol included in the package?
Yes! Each of our standard packages include the following:
1 bottle of Captain Morgan (or equivalent alcohol)
1 bottle of Sky Vodka (or equivalent alcohol)
3 chasers
water bottles
Or you can request different Alcohol, surcharge may apply.
Why should I choose Wild Boyz?
Glad you asked! Check out our Yelp reviews and Video Testimonials
Additionally, here are a few key reasons:
We are licensed and insured in Las Vegas.
We are open 7 days a week, from noon to midnight.
We are the only company to offer a refund policy. Want to cancel? No worries, you have up until 7 days before the event to get a refund.
The dancers shown are ACTUAL male dancers that work for Wild Boyz Entertainment. We never "Bait and Switch" like most agencies do. We promise to provide you the ACTUAL guy in the photos that you request.
Need more reasons? Check out our Top 10 article.
When is the best time to book?
As soon as possible. We function like a modeling agency, so the sooner you put your reservation in, the sooner we can check on the availability of your choices. By putting your reservation request as soon as possible you increase the likely-hood that you get your top choice guy!
Do you entertain all types of audiences
Yes, guys, girls, LGBT crowds, couples; Doesn't matter, we have guys for all types of audiences.
Do they get naked?
If you want our guy to get naked, we offer the "Full Monty Flash"! Some of our guys will flash the guest of honor if they are comfortable with it! We call this the Full Monty flash! For the Full Monty flash, simply mention it when we contact you. The Full Monty Flash is an additional $50!
What is a Striptainer?
Wild Boyz are much more than just strippers.
We are Striptainers.
DEFINITION: PROFESSIONAL ENTERTAINERS who STRIP.
We don't just take our clothes off… we come prepared to dance a choreographed routine.. we have professional costumes.. we bring a stereo and music playlist.. we can bring party lights or deliver a cake.. and we know how to dance, joke around, play games and make sure everyone is having a great time?
When do the Pool Parties / Dayclubs open?
Azure @ Palazzo March 17,2017
Bare @ Mirage March 10,2017
Daylight @ Mandalay Bay March 10,2017
Drai's Beach @ The Cromwell March 3-5,2017
Encore Beach Club @ Encore March 3,2017
Liquid @ Aria March 10-12,2017
Marquee @ The Cosmopolitan Open all year round -Dome
Rehab @ HRH March 10,2017
Tao Beach @ The Venetian March 3,2017
Wet Republic @ MGM March 10,2017 – Grand Opening April 28-30th
How Does The Guest List Work? What is the guest list?
Being on the guest list gets you the following benefits:
Ladies typically get free entrance and free drink tickets.
Men may get reduced cover charge or free entrance with an even ratio of women in their group, or more women than men in their group.
Men and women skip the general admission line.
Guest list entry is always determined by the venue. For special events and performances the venue may limit the guest list or not have a guest list at all. Please arrive early.
After you pay your deposit, we will provide you a list of venues to choose from. After you have made your selection, you will fill out the guest list form. You will receive an email confirmation with all the guest list instructions and a text reminder the day of. Once on our list the ladies will typically get free entry and free drinks, men may have free entry or reduced cover charge, and everyone skips the general admission line. Guest list entry is always determined by the venue and is not guaranteed. Most venues suggest a 1:1 ratio but for special events and performances may limit the guest list or not have a guest list at all.
More pictures of our Party Buses
For Prices and Reservation